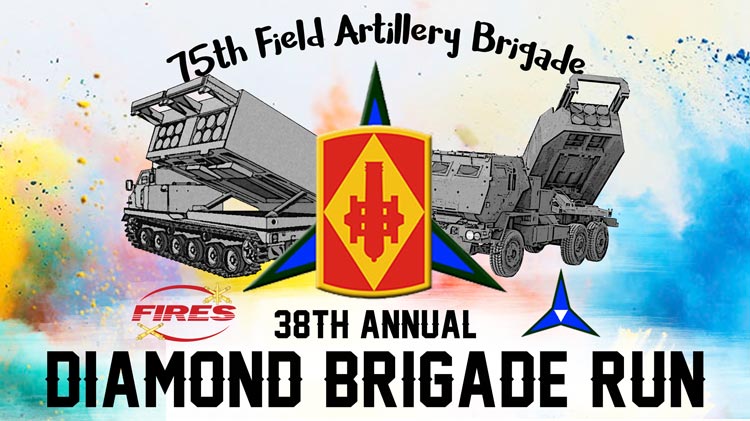 Sign-up for 75th FA Diamond Brigade Run
75th Field Artillery Brigade 38th Annual Diamond Brigade Run
Date: Jun 03, 7 a.m. - 11 a.m.
Open to the public
The 38th Annual Diamond Brigade Run, including a Half Marathon Race and the 5K Color Dash at Fort Sill, OK on June 3. The race will begin from the 75th Field Artillery Brigade Headquarters, located at the corner of Koehler Loop and Crane Avenue. Our Half Marathon features one of the areas only certified Half Marathon routes. Our 5K Color Dash features a fun event for the whole family. Race chips and timing are available for both races, with medals awarded for the top competitors and participation medals for all half marathon runners.
Day-of registration / preregistration packet pickup -
5:15 a.m.
Awards presentation
- 10:30 a.m.
Course:
Both the Half Marathon and 5k Color Dash begin at 75th FA Brigade Headquarters and utilize fully paved Fort Sill roads. The Half Marathon takes Babcock Rd, Wilson St, and Burill Rd to hit Mow-Way Rd into McKenzie Hill Rd to the turnaround point and back. See the Half Marathon route, please visit the website on the top of this page. The 5K Color Dash takes Babcock Rd, Wilson St, Burill Rd, Mow-Way Rd, to Cubbison Rd, Miner Rd, and back onto Burill Rd to loop back along Babcock Rd to the Finish Line. Color points are located at the start and along the 5k Route to ensure Runners get a full coating of colors. To see the 5K Route, please visit the website on the top of this page.
Runner's Bag Pickup:
Runner's Bag early pickup available on June 2 from 11:30 a.m. – 7 p.m. at the 75th FA Brigade Headquarters room 145. Bags can also be picked up starting at 5:15 a.m. on June 3, the morning of the race. Take this opportunity to get your visitors pass required for entry to Fort Sill, and avoid any lines on the day of the event.
Fort Sill Access (Required):
Non-DOD/CAC Cardholders must go through the Visitor Control Center (VCC) located before the Sheridan Gate. The following link is the Fort Sill Visitor Entry Form. To reduce wait times, please have a form filled out prior to arriving at the VCC, Fort Sill Form 118a. More information on Non-DOD/CAC Card holder entry into Fort Sill can be located at the following link: http://sill.armymwr.com/us/sill/programs/visitor-control-cent
Cost
$35 with a T-shirt
Open to the public