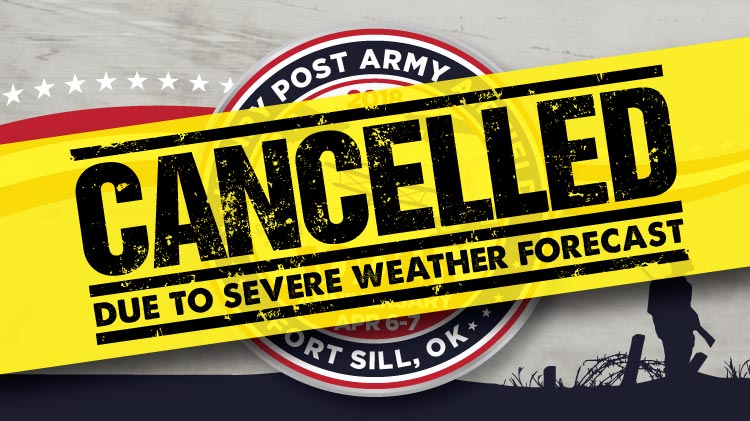 Airshow - 100th Anniversary of Henry Post Army Airfield
April 6, 2018, 6:45 p.m. - 10 p.m - LT. Dan Band Concert - CANCELLED
Due to severe weather outlook the LT. Dan Band Concert this Friday has been cancelled.
The Airshow will still take place on Saturday.
April 7, 2018, 10 a.m. - 4 p.m. - 100th Anniversary of Henry Post Army Airfield Celebration-CANCELLED
The 100th Year Anniversary of Henry Post Army Airfield, scheduled for Saturday, April 7th, is cancelled due to forecasted severe weather.

The event will be rescheduled at a future date that is to be determined.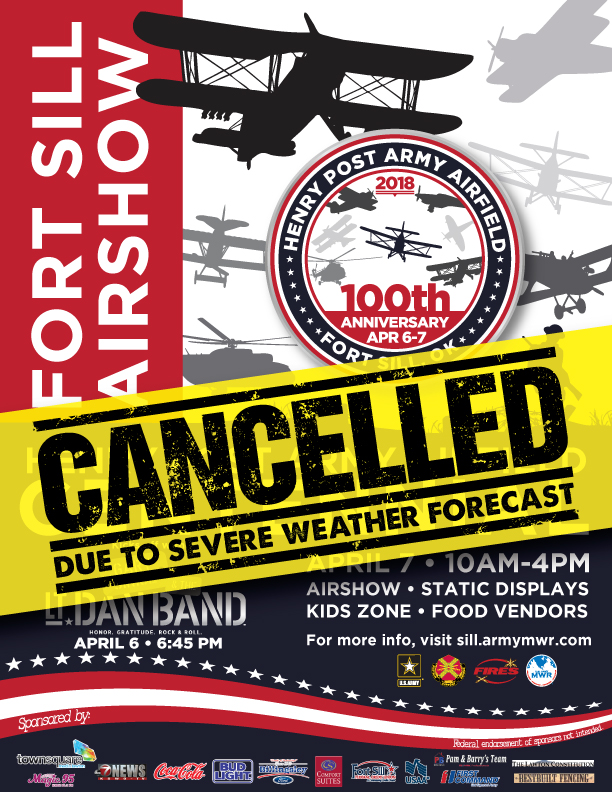 Ground Static Displays
Aviation Aircraft
Field Artillery - M119A3, M109A6, Stryker, HIMARS, and M270
Air Defense Artillery Displays - THAAD Launcher, Avenger and Patriot Launcher
Kids Zone (Bounce Houses, Face Painting, Literacy Tent, Football Toss, and much more)
FREE and Open to the Public.
9:30 a.m. - Gates open
10:00 a.m. - Official start of Centennial Henry Post Army Airfield (HPAAF)
10:00 a.m. - 1:00 p.m. Public viewing of all displays
1:00 p.m. - Fort Sill Half Section Demonstration
1:45 p.m. - Short Historical Snapshot of HPAAF as "Original Army Airfield"
2:00 p.m. - 4:00 p.m. - Airshow
Bring your lawn chair or blanket.
Sponsored by: Townsquare Media, Magic 95, KSWO 7 News, Coca-Cola, Bud Light, Billingsley Ford, Comfort Suites, Fort Sill Federal Credit Union, USAA, Pam & Barry's Team RE/MAX Professionals, First Command Financial Services, Storage R Us, Lawton Constitution, and Best Built Fencing.
Federal endorsement of sponsors not intended.
Henry Post Army Airfield History - Oldest Airfield of the Army
Some of the Static Displays
Some of the Airshow Aircraft
Prohibited Items:
Firearms (CCW Permits not recognized/honored) NOTE: Off-duty/Retired LEOs must leave firearm in vehicle
Replica or toy weapons
Stun guns, tasers, any electrical discharge devices
Knives, box cutters, cutting devices (any blade size) NOTE: This includes multi-tools, Swiss army knives, etc.
Laser pointers
Sharp objects, sticks or poles of any kind
Pepper spray, mace or any chemical dispensing device
Any type of weapons to include "self-defense" weapons
Fireworks
UAVs, drones, or any type of remote controlled vehicles
Drugs, controlled substances, drug paraphernalia
Any size coolers. EXCEPTION: small handheld coolers with baby food (formula and food in PLASTIC containers) or medications will be allowed after inspection
Alcoholic beverages (not purchased at event)
Food or beverage items (not purchased at event)
Any glass bottles or glass containers of any kind
Flammable liquids
Portable BBQ or cooking devices
Skates, heelies, roller blades/skates, skateboards, scooters, OR HOVERBOARDS
Bicycles not allowed past the security screening area
Banners or signs on a pole of any kind
Clothing with objectionable language or images (profanity, racist, anti-military, anti-government, obscene)
Costumes or any garment resembling military personnel or law enforcement officers
Pets (with exception to service dogs)
Backpacks or large bags. EXCEPTION: The following items are allowed after inspection: purses, diaper bags if accompanying a child
Large golf umbrellas
Scanners
Any other items base personnel consider a security or safety risk