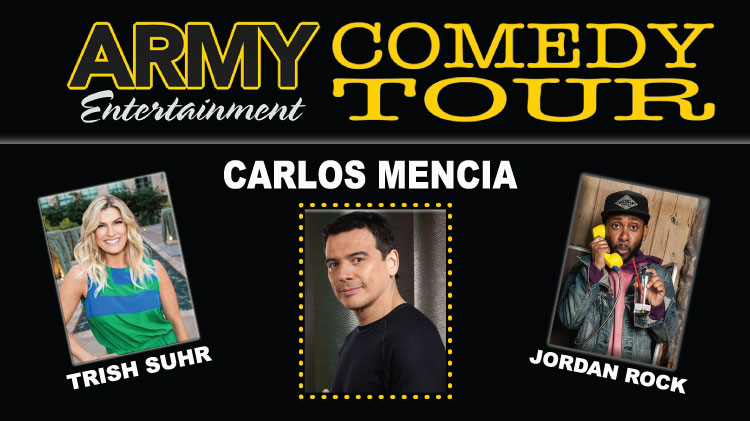 Army Entertainment Comedy Tour
Note: This event has already passed.
Date: Jul 27 2018, 7 p.m. - 9 p.m.
Historic Patriot Club - 500 Upton Road Inside the Patriot Club Fort Sill 73503 Google Map
Army Entertainment Comedy Tour is BACK! And this time we are having Carlos Mencia with special guests Jordan Rock and Trish Suhr.
Whether it is man-on-the-street interviews, studio comedy, commercial parodies, nationwide sold-out tours, or films, Mencia is undoubtedly one of today's most popular entertainers. With Trish Suhr (Charmed; Clean House; Grand Theft Auto V) and Jordan Rock (Human Unipede; Take the 10; and Wavves: That's on Me) opening for Mencia, it is sure to be a night of laughter. Heavy hors d'oeuvres will be available while they last.
Must be 18+ to attend.
Bio
Carlos Mencia
Mencia began his career doing stand-up on amateur night at the world renowned comedy club, Laugh Factory. He later showcased at The Comedy Store and became a regular, performing nightly. After he found success on the L.A comedy circuit, Mencia was named "International Comedy Grand Champion" from Buscando Estrellas (the Latino version of Star Search). This led to appearances on "In Living Color," "The Arsenio Hall Show," "Moesha" and "An Evening at the Improv."
Mencia comes from a humble background, born in San Pedro Sula, Honduras, the 17th of 18 children. His parents sent him to the United States when he was about three months old, where he was raised in the Maravilla Projects in Los Angeles, California by his aunt and uncle. In his early teens, Mencia moved back to Honduras because his family wanted him to avoid the destructive gang culture of East Los Angeles. When Mencia later returned to Los Angeles, he showed such educational prowess that he was immediately promoted to the tenth grade. Soon after, he successfully graduated from Garfield High School.
Mencia continued his journey up the comedy ladder by headlining "The Three Amigos" tour with Freddy Soto and Pablo Francisco in 2002, which sold out in record time around the United States. He was also featured in the independent films, "Outta Time" and "29 Palms" and starred in guest spots on "The Shield" and "The Bernie Mac Show," among others. In 2002, he received a CableACE Award nomination for Best Stand-Up Comedy Special for his HBO special. That same year, "Mind of Mencia" went into development. The show was an instant hit and after the first season, Comedy Central signed Mencia back for his own original stand-up special, "Carlos Mencia: No Strings Attached." The special was the first Comedy Central Stand-up Special DVD to achieve Platinum sales status.
"Mind of Mencia" debuted on Comedy Central in early 2005. It became one of the strongest shows in the network's history, averaging about 1.5 million total viewers. "Mind of Mencia" was executive produced by Carlos Mencia and Robert Morton ("Late Night with David Letterman").
Mencia starred opposite Ben Stiller and Michelle Monaghan in the Farrelly Brothers' hit feature film, THE HEARTBREAK KID (DreamWorks And in the family comedy OUR FAMILY WEDDING (FOX Searchlight) alongside America Ferrara and Forrest Whitaker.
in 2007, Mencia embarked on a USO Tour to the Persian Gulf to entertain the troops serving overseas. For his 2008 trip, Mencia visited Kuwait to host "Operation MySpace," an exclusive concert for American Troops in the Middle East alongside Jessica Simpson and The Pussycat Dolls. The special aired on FX in April 2008. Mencia's 2009 USO tour had stops in Turkey, Kirkuk, Baghdad, Qatar, Afghanistan, and many other countries.
Most recently, Mencia has gone back to his comedic roots, performing at a number of comedy venues – allowing him to share his newest material with a more intimate audience. His current tour, called the "C 4 Urself Tour," has been making stops all around the country, performing to eager audiences.
Jordan Rock
Jordan recently wrapped season 2 of the Netflix series LOVE, which Judd Apatow co-created and wrote with Paul Rust and Lesley Arfin (Brooklyn Nine-Nine). He is also set to star as "High Guy" in the Comedy Central 1⁄2 hour comedy, DRUNK GIRL, HIGH GUY, which will be produced by A24. Jordan has also appeared on FX's TOTALLY BIASED, GOTHAM COMEDY LIVE, and NBC's LAST COMIC STANDING. Jordan recently wrapped the Netflix feature film SAN BERNARDINO BOUND, starring opposite Josh Peck and Tony Revolori. He was recently named one of JFL'sNew Faces to Watch at the 2016 Montreal festival.
Trish Suhr
Emmy Award-winning lifestyle expert and headlining comedian Trish Suhr continues to be a beloved national television personality, charming audiences with her unique combination of down-home, southern charm and a contemporary, cosmopolitan sensibility.
Best known as the "Yard Sale Diva" on more than 200 episodes of Style Network's mega-hit Clean House and her hilarious guest-starring roles on NBC's The Office and Comedy Central's Reno 911!, Trish is a regular on FOX's syndicated series Hollywood Today Live. She was recently a recurring guest host onABC's FABLife alongside Tyra Banks and Chrissy Teigen as well as on Twentieth Television's The NewRicki Lake Show. While juggling her broadcast responsibilities, she leads the Country Cool Comedy Tour, playing to sold-out crowds nightly. Never one to sit still, Trish also lends her point-of-view to Erin Foley'swildly popular Sports without Balls podcast (http://allthingscomedy.com/channels/38/sports-without- balls), all while serving as the Creative Director for Pixels (http://pixels.com/), a lifetstyle and home décor company based in Santa Monica, California.
Trish is a regular contributor to Extra, Good Day LA, Good Day NY as well as a variety of magazines and is often recognized for her work as the host of National Lampoon's Gamers, WE's Take My Kids Please, CMT's Family Secrets and Lifetime's Great American Cook-off. Known for her quick wit and razor-sharp perspectives, Trish frequently offers commentary for popular specials on outlets including ABC (Good Morning America), Bravo, E!, CMT and VH-1.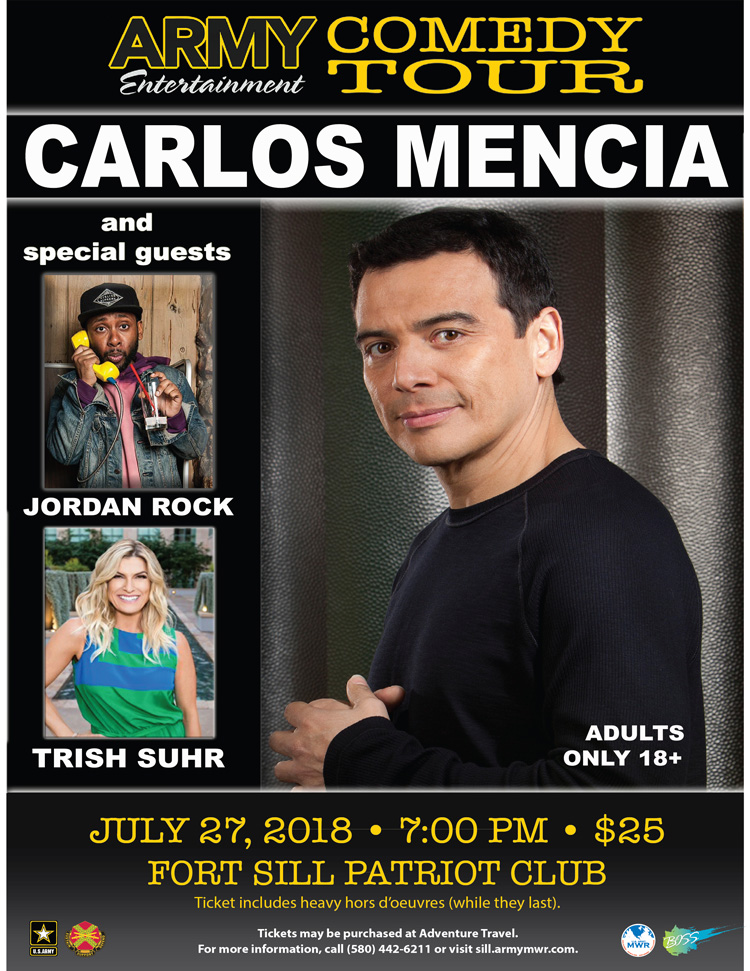 Cost
$25/person - Ticket price includes heavy Hors D'oeuvres (while they last)
Tickets are available at Adventure Travel, Bldg. 4700, Welcome Center, North Entrance. +1 (580)250-4040.