Fort Sill Conference Center
Evenings and weekends will be approved on a case-by-case basis. All events require the presence of FSCC staff.
To inquire about scheduling an event contact:
+1 (580)442-6744
Fax: +1 (580)442-7027
Reservations must be placed using our online form below.
A confirmation or denial email will be sent once your reservation has been received. Please call ahead to confirm availability before submitting the form.
Any and all changes or cancellation of reservations need to be submitted at least 24 hours prior to the scheduled event. Notifications of the cancellation can be conducted either by phone or e-mail.
6045 Sheridan Road BLDG 6045 Fort Sill, Oklahoma 73503 United States
+1 (580)442-3060
| | |
| --- | --- |
| Monday | 8:00am-4:30pm |
| Tuesday | 8:00am-4:30pm |
| Wednesday | 8:00am-4:30pm |
| Thursday | 8:00am-4:30pm |
| Friday | 8:00am-4:30pm |
| Saturday | Closed |
| Sunday | Closed |
Email Us
Programs using this location:
Patriot Club

The Patriot Club hosts a number of specials events for both the Lawton and Fort Sill community, including the annual Fires Conference, Military Balls, Easter and Mother's Day Brunches, High School Proms & Reunions, and many more!
The Historic Patriot Club is open to all Military, family members, and the general public.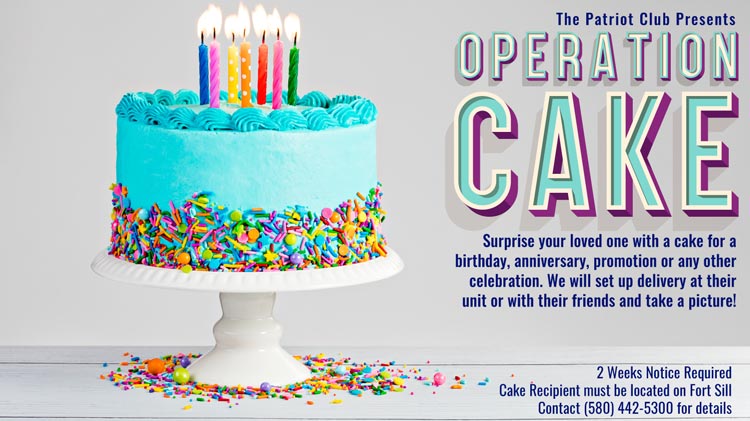 Kitchen Hours: Wednesday - Saturday, 4 pm - 9:30 pm
500 Upton Road BLDG 500 Fort Sill, Oklahoma 73503 United States
+1 (580)442-5300
| | |
| --- | --- |
| Monday | Closed |
| Tuesday | 9:00am-5:00pm |
| Wednesday | 9:00am-5:00pm |
| Thursday | 9:00am-5:00pm |
| Friday | 9:00am-5:00pm |
| Saturday | 11:00am-6:00pm |
| Sunday | Closed |
Email Us
Programs using this location:
← Previous
1 (current)
Next →